The official website of the Elkhorn Slough Foundation and Elkhorn Slough National Estuarine Research Reserve
Field Notes from Sand Hill Farm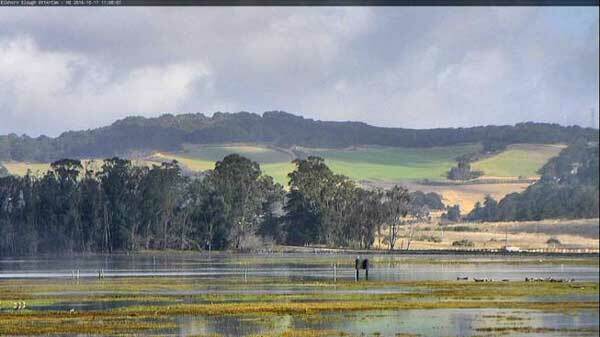 Last weekend was the first rain of the season and our farm held up great. See more photos and updates about our Sand Hill Farm...
Award for Excellence
Reserve Education Coordinator Virginia Guhin doesn't let anything stop her from sharing the wonders of Elkhorn Slough with our community. Virginia was awarded the CDFW 2016 Employee Excellence Award for Vision, in recognition of her creativity and dedication creating community activities like the Elkhorn Slough Estuary Explorers after-school program with nearby Elkhorn Elementary School.
Congratulations, Virginia, for this well-deserved honor!
Vote Now - for our calendar cover!
Help us pick the cover of our 2017 Wall Calendar. Just head on over to our Facebook page and vote with your likes.
Oyster Research
Elkhorn Slough Reserve staff members Kerstin Wasson and Susie Fork, together with Smithsonian Environmental Research Center scientist Chela Zabin, spent two years conducting large replicated restoration experiments on the Elkhorn Slough Reserve. See the latest research...
!
This site is maintained by the Elkhorn Slough Foundation in partnership with the Elkhorn Slough National Estuarine Research Reserve
Elkhorn Slough Foundation –  PO Box 267, Moss Landing, CA 95039